Monday, August 16, 2021 / by Tasha Osbourne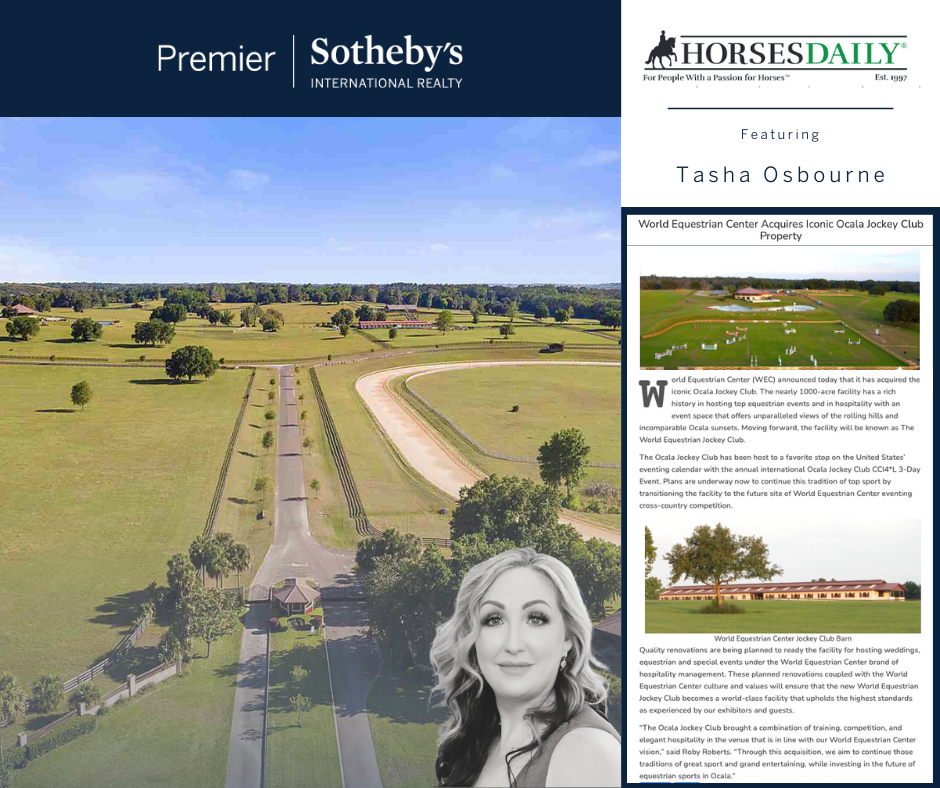 The Roberts family continues their massive support of horse sport in Marion County through the recent acquisition of the 950 acre Ocala Jockey Club. Proving their long term dedication to the equestrian industry in Ocala, WEC plans to continue to host eventing competitions at the already established property of the Ocala Jockey Club CCI4*L 3-Day Event.
In typical Roberts style, plans are underway to renovate the facility, including the main club house, which has panoramic views of Marion County's rolling hills and their FEI cross country course. The unique 9700 square foot Ocala Jockey Club House is perched on one of the highest points in Ocala with a view of the farm and training track. The club house has hosted events, weddings, corporate meetings and parties for the past decade – and will continue to be the focal point of the new World Equestrian Jockey Club.
Taken from the recent press release regarding the acquisition, Roby Roberts made the following statement.
"The Ocala Jockey Club brought a combination of training, competition and elegant hospitality in the venue that is in line with our World Equestrian Center vision," said Roby Roberts. "Through this acquisition, we aim to continue those traditions of great sport and grand entertaining, while investing in the future of equestrian sports in Ocala."
"Quality renovations are being planned to ready the facility for hosting weddings, equestrian and special events under the World Equestrian Center brand of hospitality management. These planned renovations coupled with the World Equestrian Center culture and values will ensure that the new World Equestrian Jockey Club becomes a world-class facility that upholds the highest standards as experienced by our exhibitors and guests."
Plans are to retain the cross country course and to expand WEC's foray into the discipline of Eventing. Ocala, 'The Horse Capital of the World', is a hot bed of top international event riders. The Ocala Jockey Club CCI4*L 3-Day Event, which has traditionally been held the 3rd week in November since 2016, has not been held since 2019. The WEC Jockey Club does plan to continue to hold eventing competitions at this impressive facility. Stay tuned for more information!
The Nygaard employed Sotheby's International Realty to broker the sale.
"We are selling the property to simplify our operations and provide more time to focus on other personal priorities and business projects," Pavla Nygaard said in a May interview with BloodHorse.com.